Sound System and Projector Rental for Birthday Parties, Weddings
Reference: SSP
Sound System and Projector Rental for Birthday Parties, Weddings, Gatherings, Baby shower, Company Events and Functions.
Suitable for Condo Function rooms, HDB Void Deck, Function Hall, Community Centres, Auditoriums, open field events and Movie Screening.
This product is no longer in stock
Availability date:
More info
A. The package comes with the following: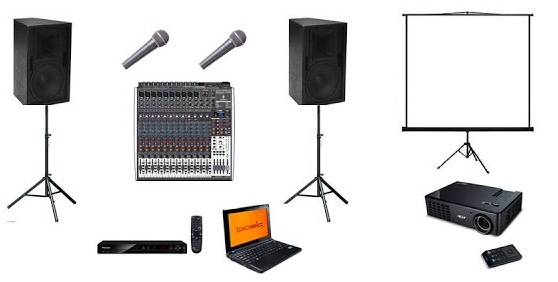 2 x PA speakers with Amplifier.
2 x Speaker Stand.
1 x Audio Mixer.
2 x Wireless Mics.
1 x Wireless Mic receiver.
1 x 3600 Ansi Lumens Bright Projector.
1 x Projector Stand.
1 x Tripod 70" Projector Screen.
1 x Lenovo ThinkPad Notebook.
2 x 3.5mm cables to connect your tablet, PC or other sound device.
1x Table for Audio Mixer and Notebook.
Other necessary cables and adapters.
B. Loan duration is for Four (4) hours only. For extra hours please indicate in your selection.
C. There will be a Sound technician throughout the event. The sound technician will operate the audio mixer and projector.
You can request the Sound technician to :
1. Play audio music (music has to be provided in a flash drive)
2. Play video. (Video has to be provided in a flash drive).
D. You are also welcomed to use the Notebook provided and use your own audio or video files.
E. FREE Delivery, Setup and Removal.
The Sound technician will setup the Video and Sound system.
We require 2 hours setup time before event start time.
To remove we require between 30 to 45 minutes.
F. Payment: Customers required to pay 50% deposit. Balance to be paid on the end of Event day.
G. Booking has to be done at least 2 weeks in advance. Kindly inform us of the following:

1. Type of Event : Ex. Birthday party, Wedding, Baby shower, Company Event.
2. Venue.
3. Start Time of Event. Ending time of Event.
H. Kindly contact us for any further details.


Tel : +65 6100-0221